If you've ever asked yourself "Where do celebrities go on vacations?" The Dead Sea may not have been the first answer to come to mind. But then, it makes perfect sense when you think about it – after all, health spas and popular resorts are many celebrities' favorite hangouts, and exotic locations where you smear your body in black mud are perfect for Instagram photos! So which celebrities have visited the Dead Sea lately, and what have they been doing there? This article will dish the dirt on them – literally.
Rihanna, Chris Martin, and Bar Refaeli – they've all been to the Dead Sea!
Ready to discover some juicy (or should we say muddy?) details about celebrities on holiday who visited the Dead Sea in the past few years? It's a star-studded list, so get comfortable because you're in for an interesting read!
The latest celebrity to have visited the Dead Sea is Gal Gadot, the  Israeli model turned international film star. Gadot lives in Israel and is constantly hopping over the ocean to shoot campaigns and films, but that doesn't stop her from being a good ambassador to Israel's holiday spots! This past December she was spotted in the Ein Gedi camping site (which is right next to the Dead Sea), where she had taken some visitors from abroad, including the producer of Wonder Woman, for a tour of the area. Reportedly, the star enjoyed some relaxing spa treatments and had some Dead Sea fun as well. Go Gal! You deserve it.
Just before Gadot, Israel received a surprise visit from Chris Martin, lead singer of Coldplay! Martin was here last November for a low-profile visit. He stayed at the boutique Norman Hotel in Tel Aviv and flew over to the Tamar Regional Council near the Dead Sea, where he had a meeting with Council Head, Dov Litvinoff. Since Martin had also visited other locations in the South of Israel during his stay, it was rumored that he was scouting locations for "peace concerts" that Coldplay is planning to play in Israel for an Israeli-Palestinian audience, sometime in the near future. The band is staunchly denying this, but let's keep our fingers crossed, shall we?
Hayden Panettiere, star of TV shows Heroes and Nashville, had also visited the Dead Sea during November 2016. She tweeted a photo of herself floating on the water, claiming this was "one of the most incredible things I've ever done". Apparently, she also visited Tel Aviv during that trip, so she got both party time in the big city and some downtime in the healing waters of the Dead Sea.
Jeremy Piven was sighted at the Dead Sea last summer (August 2016). Piven is best known for his role as Ari Gold in the TV series Entourage; prior to that he'd played the character of Spence Kovak on Ellen, Ellen DeGeneres' sitcom. Piven even tweeted a photo of himself standing next to Georges St. Pierre, a mixed martial artist from Canada and three-time former champion of the UFC – both covered in mud. He also posted an Instagram photo of him standing amidst a group of Israeli soldiers whom he met on his way to the Dead Sea. Piven is Jewish and this was his first-ever visit to Israel – he even celebrated a second Bar-Mitzvah at the Western Wall!
Former American Idol judge and long-time pop star Paula Abdul had been on a holiday in Israel in the fall of 2013, during which she had also visited the Dead Sea. Her photos – floating in the water, covered in mud, and petting a camel – circulated in various entertainment websites and she'd also tweeted a photo of her floating peacefully, arms stretched wide, reading "Floating HAS to be 1 of the best ways to relax. So effortless. Just smile and feel free". Abdul, who is Jewish, was hosted by the Israeli Ministry of Tourism; she had come to Israel to connect to her roots and celebrate her Bat Mitzvah, which she did in a private ceremony in Safed. She'd also visited Jerusalem and met with the then-president, the deceased Shimon Peres. Paula, when are you coming back to be a guest judge in one of Israel's talent shows? They'll welcome you with open arms!
World-famous pop icon Rihanna has also graced the beaches of the Dead Sea, if only for a short while. Rihanna came to Israel in October 2013 as part of her "Diamonds" tour, taking the opportunity to have a short dip in the salty lake. The star visited the Dead Sea on the day of her concert, which caused her to be two hours late to the event – whoops!. She shared photos of herself in the water and seemed to be enjoying herself. Rhianna's stay in Israel was brief: that same night, right after the show, she flew to her next stop on the tour – Turkey. RiRi, come back! We miss you!
Israeli/international model Bar Refaeli, visited the Dead Sea back in 2011, a visit which was picked up by websites like TMZ, Daily Mail, Hello Magazine, and Celebuzz. Refaeli, who is Israeli and has recently moved back to Israel after several years of living abroad, has probably been to the Dead Sea numerous times and will visit it in again the future. In August 2011 she visited the salty lake and tweeted some photos of herself posing prettily while covered in black mud from head to toe, with the cheeky caption: "*Muddy* but feels good!! DEAD SEA – if you haven't been… well, sucks for you!"
Last but not least, it's time to tell you that the Dead Sea has been visited not only by real-life celebs but also by cartoons. In fact, the salty lake was featured in The Simpsons not once – but twice! The first time was in the episode "Flaming Moe's" back in season 3 (1991). On this episode, Patty and Selma, Marge's chain-smoking twin sisters, show a slide show from their vacation in the Dead Sea, with Patty commenting that although people say that everyone floats in the Dead Sea, Selma sank right to the bottom. The next time the Dead Sea was mentioned in the show was on the episode "The Greatest Story Ever D'ohed" in season 21 (2010). In this episode, the Simpsons go on a vacation in Israel; Homer gets lost in the desert, and becoming hydrated, he drinks water from the Dead Sea. This of course causes him to get even more dehydrated and he has hallucinations that he's the new Messiah. LOL! You should totally watch these episodes before you visit the Dead Sea.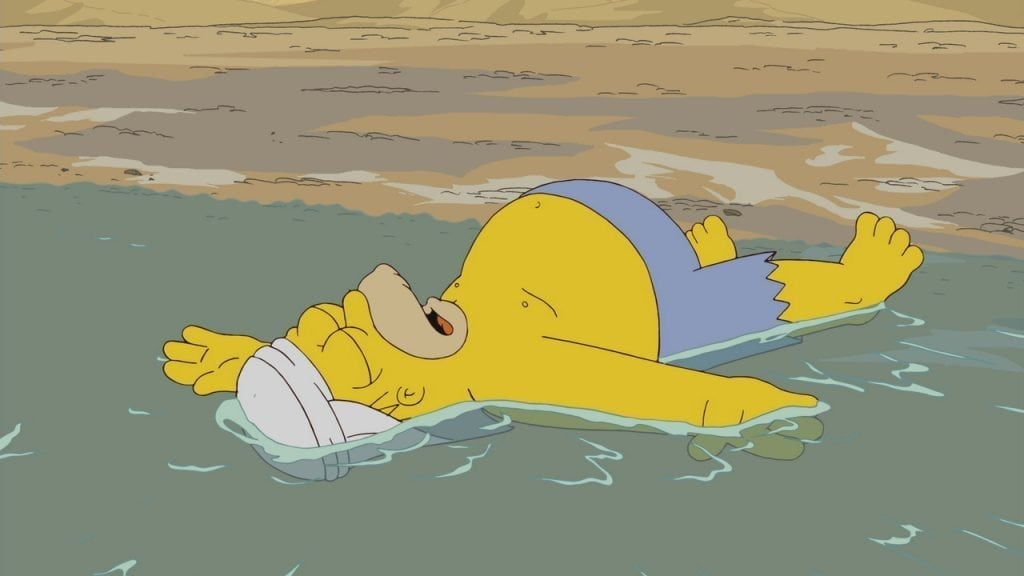 Dead Sea vacations – party like a celebrity!
As you can understand from all these stories about celebrities on vacations (some of them not even being Jewish or pro-Israel celebrities), the Dead Sea is definitely a place where you can feel fabulous and vacation in style. Just order a room at a fancy spa, pack some glitzy swimwear, and you're all set!
The Best Time to Visit the Dead Sea
Swimming in the Dead Sea, Is it Safe?
Perfect Dead Sea Family Vacation with Kids
Travel to the Dead Sea